Fun Work Christmas Party Ideas 2023
As the holiday season approaches, workplaces are abuzz with the excitement of organizing the annual Christmas party. In this blog post, we'll explore some festive work Christmas party ideas, delve into the reasons behind celebrating Christmas, and add a dash of fun with Minute to Win It Christmas games to make your gathering truly memorable. 
Why Do We Celebrate Christmas? 
Before we jump into the party planning, let's take a moment to reflect on why Christmas holds such a significant place in our hearts. Christmas, at its core, is a time to celebrate the birth of Jesus Christ, who represents love, compassion, and goodwill. Over the years, it has evolved into a cultural and secular celebration, a time to be with family and friends, exchange gifts, and spread joy and warmth to those around us. 
Work Christmas Party Ideas:
Ugly Sweater Contest:

Encourage colleagues to wear their most outrageously festive and tacky sweaters. Have a contest and award prizes for the most creative, funniest, and ugliest sweaters.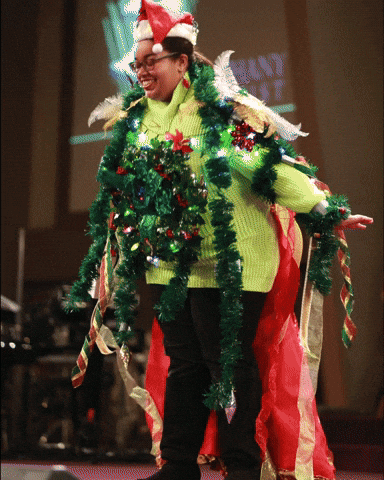 Secret Santa Gift Exchange:

Organize a Secret Santa gift exchange where participants draw names and select thoughtful gifts for their coworkers. Set a budget to make it inclusive for all.

 

Christmas Karaoke:

Set up a karaoke machine and let everyone channel their inner rock star with favorite holiday tunes. Don't forget the classic "All I Want for Christmas Is You."

 

Holiday Potluck:

Host a potluck-style feast where each team member brings a dish to share. Ensure a variety of options, including vegetarian and gluten-free dishes.

 
Minute to Win It Christmas Games:
Jingle Bell Jam:

Contestants must shake ping pong balls out of a tissue box tied around their waist, without using their hands, in under one minute.

 

Frosty the Snowman Stack:

Participants race against the clock to stack three white marshmallows on top of one another to create a snowman using only a toothpick as their tool.

 

Candy Cane Catch:

Challenge players to catch mini candy canes with a chopstick held in their mouths.

 

Ornament Relay:

Set up an obstacle course and have teams' race while carrying an ornament on a spoon. The first team to complete the course without dropping their ornament wins.